Some people claim that tomatoes can be used as a natural remedy for various skin care concerns.
Tomatoes are healthy, and contain antioxidants and vitamin c, which may help strengthen your immune system. They're also a dietary source of Potassium, Vitamin A, Vitamin B, Magnesium.
Benefits of Tomatoes
May Help Protect Against skin Cancer

Tomatoes contain lycopene carotenoid found in different types of fruits. This naturally occurring compound gives tomatoes their red color. lycopene also has a powerful anticancer effect.
May Reduce Risk of Sunburns

Tomatoes aren't a substitute for sunscreen, but the lycopene in the fruit may have a photo-protective effect. Eating tomatoes may offer some protection from UV light-induced erythema or sunburn
May Soothe Inflammation
Tomatoes have anti-inflammatory effects because of these compounds: Lycopene, beta Carotene, Lutein, Vitamin E and C
When applied to the skin, these compounds may help ease pain associated with skin irritations or sunburn.
May Prevent Acne

If your skin is acne prone, you can make tomato scrub part of your skin care routine. Tomatoes contain vitamins A, C and K that help the skin to maintain its normal PH level and also cause a deep cleansing.
How to use: You can mix tomato juice with a Multani mitt or tea tree oil. Apply all over your face two or three times a week.
May Help Remove Dead Skin Cells

Exfoliation removes dead skin cells. It may help improve the health and appearance of your skin.
To create a tomato scrub, combine sugar and mashed up tomatoes. You can then rub the scrub on your body but use care to avoid your face. Store-bought sugar crystals are too jagged and can create injuries on facial skin, which is thinner than the skin on the rest of the body.
May Help Fight Cellular Damage

Free radicals can damage skin-cells. This may increase your risk for wrinkles and signs of aging.
Tomato contains antioxidants, such as lycopene and vitamin C. Consuming tomatoes can help provide your body with these antioxidants. That may, in turn, help fight free radicals.
May moisturize skin

Untreated dry skin can lead to itching, cracking, and flaking. Different lotions and creams can treat dryness. Along with traditional remedies, some people claim you can also apply tomato juice to dry skin to help provide moisture.
Tomatoes are an excellent source of potassium. According to research, decreased levels of potassium may contribute to dry skin in people with atopic dermatitis, a type of eczema.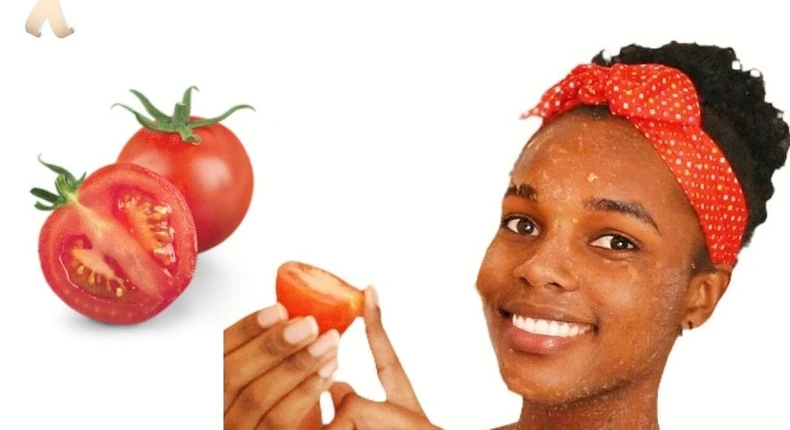 Side Effects of Using Tomatoes on Your Skin
Tomatoes and tomato juice have plenty of health benefits. They may offer some benefits to your skin, but this remedy isn't for everyone.
Tomatoes are naturally acidic. If you're sensitive to these natural acids or if you're allergic to tomatoes, applying the fruit or juice could cause a reaction.

READ ALSO: 5 ESSENTIAL OILS TO RELIEF STRESS AND HEADACHES

Signs of a reaction include:
Rash
Itching
Redness

Before using tomatoes or tomato juice over a large area of your body (skin care routine) apply a small amount of juice to a patch of skin. Monitor your skin for a reaction.
If your skin can't tolerate the acidic nature of tomatoes, eat or drink your tomatoes instead.